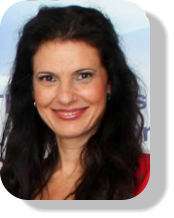 Katrin Prentice
Accredited Master Coach
Managing Director for the Coach Training Division of Noble Manhattan Coaching in the Balkans Region. Katrin is among the first accredited Master Coaches in Eastern Europe, and she is experienced life, executive coach with 3000 hours with individual clients.
She is a senior faculty member in Noble Manhattan, coach mentor and trainer, course co-creator, webinar lecturer and final assessor. Together with her partner Brian Prentice, their company has contributed significantly to the development of the coaching industry in Eastern Europe.
As Master Distributor for Noble Manhattan Coaching, she has trained hundreds of coaches and mentors in the Balkans region, many of the leading names in the business and coaching community.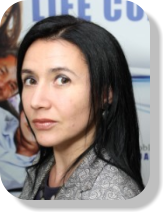 Ilina Natcheva
Accredited Practitioner Coach
Qualified and Certified Life Coach, founder  and Vice-President of Sofia Coaching Support Group (2014-2017), I am a social psychologist with experience in design and delivery of soft skills trainings and consulting to corporate clients, as well as Life coaching to individual clients.
I have conducted studies devoted  to different  aspects of human communication and  published scientific and popular articles in the field of leadership, social attitudes and personal development. I have 4 years of successful partnership with Noble Manhattan Coaching in Bulgaria  and currently I am an Assessor and I also participate in the translation and adaptation of the training materials in Bulgarian.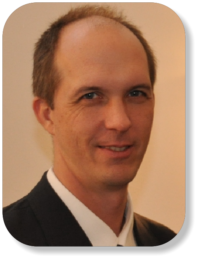 Brian Prentice
All around good guy 🙂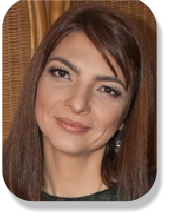 Aneliya Stoilova
Sofia Coaching Support Group
Aneliya is a professional Life and Executive Coach, who graduated with distinction her training at Noble Manhattan Coaching. Her educational qualification also includes "Small Business Management" with Northwest College of London, Masters Degree in Informatics with Sofia University "St. Kliment Ohridski" and a variety of training programs in NLP and personal development.
In an interview she shared the following about herself: "My education started in the field of management and marketing, which taught me an organisation, communication and proper planning.
A significant part of my educational journey has been in the branch of Informatics. I have multiple qualifications in the field of information technologies and project management.
At the same time, as part of my growth journey, I invested in a variety of training programs in the field of personal development and NLP. Оver the past three years, my efforts have been fully focused and entirely devoted to my training and professional development as life and executive coach.
I dedicated six years to study, understand and implement different strategies of digital marketing as part of the development of a successful business."
Aneliya has over 15 years professional experience in the IT industry, from a junior specialist to senior manager. Her duties have ranged from a trainer, consultant, and manager, to participation in international projects related to the environment, the pharmaceutical industry and telecommunications.
When asked "How would you describe yourself?", Aneliya answered: "I define myself as an organised, ambitious and sociable person. I strive to set realistic goals and reaching them."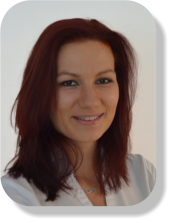 Gergana Nikolova
Plovdiv Coaching Support Group
After high school, I continued my education in Plovdiv University studying Slavonic philology. I learned one very important lesson after the second year, a person has to do what they truly love, not what it is expected of them. Therefore, I quit the university and left to USA for 5 months. When I came back, I continued my education and I graduated with honor in Marketing and PR.
A truly valuable experience for me is working in international outsourcing organization as a team leader for 6.5 years. Working with people is a real pleasure for me and it inspired me to take variety of additional training's like NLP, academy for leaders, project management, train the trainer, etc. A great contribution for my growing as a conscious person has also been my participation in a psychodrama personal development group for 9 years.
In 2017, I discovered my love for coaching, so I graduated with Noble Manhattan's Life and Executive Coach Program. I know that getting to coaching in my life was not a coincidence but a logical next step. Working with different people throughout my life made me discover my true love for helping others in their path. Observing the change in others and in myself also, gave me the strongest believe in my life – everyone can be a better version of themselves, everyone can change and make a difference in the world.
I now work with individuals and business owners, who want to change their lives, to achieve their goals and do more for themselves and the world around them. My true passion is working with managers and team leaders on developing and managing their teams because I know how essentially important this is in a corporate environment.
След гимназиалното си образование продължих да уча Славянска филология в Пловдивския университет "Паисий Хилендарски". След втората година научих и още един важен урок – че човек трябва да прави това, което истински обича, а не това, което се очаква от него. За това напуснах университета и заминах за 5 месеца в САЩ. След това продължих образованието си в Колежа по икономика и администрация и завърших с отличие Маркетинг, реклама и PR.
През последните 6 години работя в международна аутсорсинг организация като към момента изпълнявам длъжността Старши Тийм Лидер на прекрасен екип в областта на продажбите. Работата с хора е истинско удоволствие за мен и тя ме вдъхнови да премина редица допълнителни обучения в сферата на коучинга, NLP, академия за лидери, управление на проекти и train the trainer.Голяма заслуга за израстването ми като осъзнат човек има и участието ми в група за личностно развитие по психодрама в продължение на 9 години.
Това, което със сигурност мога да кажа за себе си е, че когато правя нещо, което истински обичам, давам цялата си енергия не само в целия процес, но и на хората, с които работя. Обичам да бъда активна, позитивна и да създавам промяна.
Към момента съм студент към Noble Manhattan по програмата Practitioner Coach Diploma и знам, че да стигна до коучинга в моя живот не беше случайност, а логичната следваща крачка.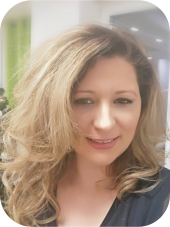 Limba Veselinovikj
Skopje Coaching Support Group
"Being in love with human psychology and personal development for as long as I can remember, growing up, I always found different ways to motivate and help people around me to find their purpose, solve an issue, embrace changes, look for opportunities, to get past their obstacles or fears, follow their dreams and be inspired. I love to think that everything is possible, and I firmly believe that everything happens for a reason and that we create our own future by what we think, how we act upon our dreams and what decisions we make daily.
I have been pursuing a career in HR, on a variety of positions from a Global Recruitment Manager, Senior Training and Development Manager to HR Manager and Career and HR consultant. In the past few years, I have conducted a variety of group trainings, and I have attended some leadership and personal growth training myself such as Accountability Training "The Wizard Of Oz", "ALPS" Training, "Starting as a New Leader", and so on. My passion for coaching brought me to complete Train the Trainer Certification from "Points of You", and currently I am a proud student of Noble Manhattan Life & Executive Coach program (PCD)."